Manger s1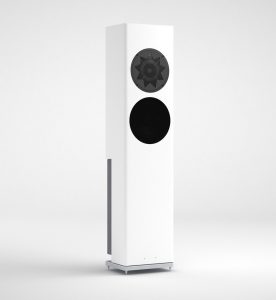 REALITY FEELS AT HOME
The Manger s1 is a classic redefined. We threw in all of our knowledge from the past 45 years, enhanced it with only the best materials and produced it under the highest possible level of precision.
Inspired by your individual taste
The accurate, innovative and authentic s1 has quickly become our flagship system. A classic and smooth design, excellent production quality and unparalleled audio reproduction.
Affectionate design meets ultimate function
A pure body. Ultra sleek look and feel with a high end finish of your choice. Smooth and round corners not only make you feel attracted to the s1 – first and foremost they enhance the circulation of the audio waves.
Driven by the Manger Sound Transducer
Our patented, ultrafast sound transducer accurately reproduces subtle musical structures, while the built-in woofers generate even the lowest octaves with ease.
Fortitude from top to bottom
Four spikes guarantee a firm stand, giving the 105.7 lbs (48 kg) heavy active system the stability and precision it needs during every performance.
GENERAL
Type: Active 2-Way Floor standing speaker
Frequency range: 30 Hz – 40 kHz
Crossover frequency: 330 Hz
Maximum SPL: 110 dB Peak
Dimensions (H×W×D): 44.8×10.6×8.4" (1139×270×214 mm)
Weight: 105.7 lbs (48 kg)
CHASSIS
HF: Manger ® Sound Transducer, Bandwidth 80 Hz – 40 kHz, Rise Time 13 μs
LF: 8" (200 mm) Glass Fibre Polyester Sandwich Design, 38 mm Voice Coil Diameter
Enclosure: Closed
AMPLIFIERS
Max. Power Output LF: 250 W @ 8 ohm Class AB
Max. Power Output HF: 180 W @ 8 ohm Class AB
Power Bandwidth: 250 kHz (-3dB)
Input Sensitivity: +6 dBu (1.55V ) or 0dBu (0,775 V)
Input Impedance: 10 kOhms
Input Connector: XLR-3 (Balanced)
VARIOUS
Control Switches: Individual Adjustment Options
Power Led – Limiter Led Green – Green / Red
Finish: Silk matt as per RAL, Nextel, veneer or Ultra High Gloss