Fyne Audio F300 series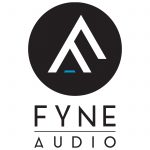 200 YEARS' EXPERIENCE.
Scottish-based loudspeaker manufacturer, FYNE AUDIO, is brand new. But the 7-strong management team brings an enviable pedigree of over 200 years' audio industry experience. Additionally, a recruitment programme is underway to bring in even more industry talent. We are seeking more team players with the passion and creative skills to help achieve our goal of designing and manufacturing an exceptional range of high performance loudspeakers.
MEET THE F300 SERIES
The price may be entry level but the F300 range benefits from the very best technical and acoustic expertise in the loudspeaker industry. Offering a scale of specification and audiophile performance unrivalled at its price, the line-up provides versatility for music lovers or movie enthusiasts. With a choice of two bookshelf or stand-mount models, two floorstanders, a centre channel and dipole speaker, there are plenty of options to suit a wide variety of listening environments.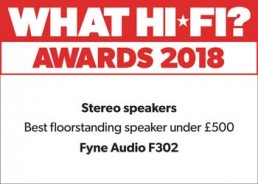 ---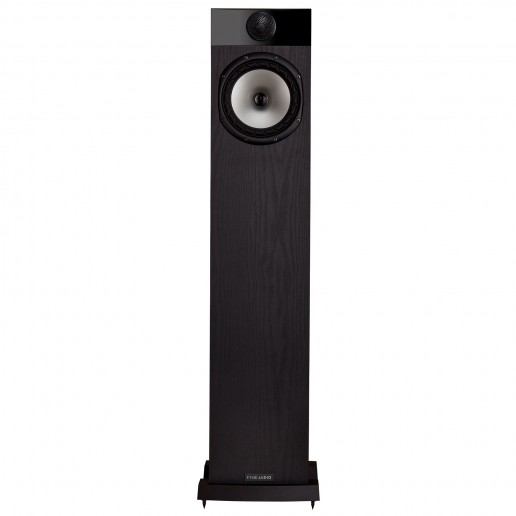 CABINET
A well-constructed cabinet is the starting point for any high-performance loudspeaker. Exceptional rigidity is provided on all F300 models through a combination of MDF panels which are cross-braced internally. Additional stiffness is achieved by coupling the low frequency driver's magnet to the cabinet bracing using a resonant-absorbing mastic. Widening the footprint on the floor standing models, using a plinth with floor coupling spikes, provides stability for tight bass and accurate stereo imaging.
CROSSOVER
Optimal performance of each of the F300 models is assured by using high quality precision components within the crossover, including low loss LF laminated core inductor and HF polypropylene capacitors. Although the designs are computer optimised, fine-tuning is always undertaken through critical auditioning. The gold-plated speaker terminals ensure a clean signal path and the top of the range F303 has bi-wire terminals fitted to further enhance performance.
---
DRIVER TECHNOLOGY
Fyne Audio aims to provide best in class performance at all price levels and the careful component selection for the F300 drivers helps to meet this goal.
Utilising a multifibre paper cone on the bass / midrange drivers delivers a natural sounding midrange and clean transient behaviour.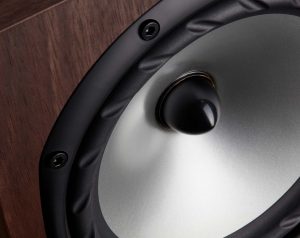 Fitted to the centre of the driver is a phase plug which provides smooth midrange roll-off characteristics. FyneFluteTM technology, used on the driver's roll rubber surround, provides a non-homogeneous interface which very effectively terminates cone energy.
TWEETER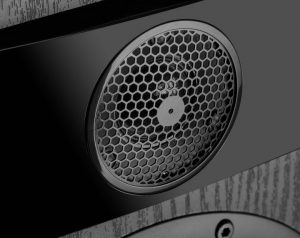 The tweeter combines a powerful Neodymium magnet system with a 25mm Polyester dome producing crisp and controlled high frequency detail. Integrated within the protective mesh cover is a phase loss compensator which delays the output from specific areas of the dome to give a smooth and extended response.
WE MAY BE A NEW NAME IN AUDIO BUT…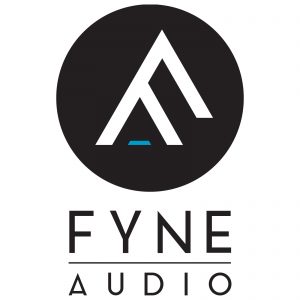 When you invest in a pair of FYNE AUDIO loudspeakers, you'll be pleased to know that the development of each product has been undertaken by an enthusiastic and experienced team who have been in the loudspeaker business for very many years. At every level of the design process, be it acoustic know-how, mechanical engineering, choice of materials or manufacturing expertise, our loudspeakers have been tuned to offer best in class performance.