Fyne Audio F3-12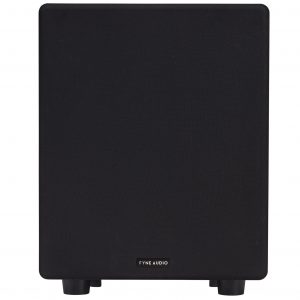 F3-12 PRODUCT DESCRIPTION
The magnificent F3-12 is Fyne's state-of-the-art F300 series subwoofer featuring a massive 300mm (12") multi-fibre cone driver, over half a kilowatt of DDX Direct Digital amplification and advanced DSP control with Bass Boost mode specifically for home cinema LFE.
The heavily built, high rigidity MDF cabinet features a large down firing port, compliant floor coupling mounts and a raft of features including phase control, a 12V trigger, auto-sensing power on, and individual LFE/RCA inputs and filtering. The result is breath-taking bass performance as low as 28Hz, making the F3-12 the ideal super-sub for music and movies alike.
PRODUCT SPECIFICATIONS
Output Power
520W
Enclosure Type
Vented, downwards firing
Enclosure Volume
53 litre (1.9 cu. ft.)
Bass boost (+3dB)
30 – 70Hz
Low Frequency Response (-6dB typical in room)
28Hz
Drive unit complement
300mm (12")
Inputs
2 x Phono L & R stereo, 1 x mono LFE
Input Filter
80Hz 2nd Order Low Pass, with LFE Provision
Standby Power Consumption
<0.5W (ErP Approved)
Mains Voltage
220-240V / 50Hz Nominal
Maximum Power Consumption (Watt)
260W
Auto Mute
After Approximately 10 mins in Absence of Input Signal
Dimensions – HxWxD
480 x 375 x 443mm (18.9 x 14.7 x 17.4")
Weight – Each
20kg (44.1lbs)

Notes:
Bookshelf dimensions includes grille, terminals, and any plinth, but excludes feet. Floorstand dimensions includes grille, terminals and plinth, but excludes spikes. Subwoofer dimensions include feet. All information was correct at the time of publishing. Fyne Audio Ltd reserve the right to amend details of the specification without notice in line with our policy for continuous improvements.