Manger p2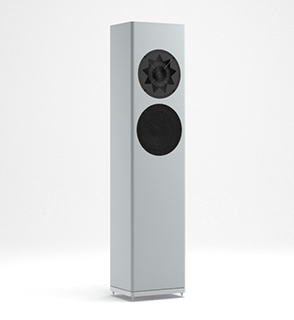 A NEW HORIZON
To come as close as possible to the original has always been the ambition of Manger Audio. Along this path Josef W. Manger has accomplished a technological masterpiece the Manger Sound Transducer. The passive fl agship model p2 consistently acts on this maxim and takes another important step in approaching the ideal of time correct and faithful audio reproduction. The p2 open up a new horizon.
Speed is the Key
A precondition on the path to authentic reproduction is time correct and integral rendition. Due to its design the Manger Sound Transducer provides an impulse fi delity, in other words the ability to rapidly track short signals, that is far superior to conventional drivers. The newly developed woofer of the p2 also achieves an exceptionally high signal fi delity and perfectly complements the Manger Sound Transducer. The two innovations merge into a uniquely authentic reproduction system.
Deeply Impressive
The p2 woofer features a groundbreaking, patented sandwich-type membrane. Two carbon fi ber reinforced cellulose layers fl ank a layer of high-tech foam. The sophisticated material mix combines high inner damping with low weight and extreme rigidity. Partial vibrations and fractured radiation to higher frequencies are thus effectively eliminated. In combination with two meticulously tuned passive membranes of identical design the woofer provides matchlessly precise reproduction down to the lowest register.
GENERAL
Type: Passive 2-Way Floor standing speaker
Impedance: 8 Ohms
Frequency range: 30 Hz – 40 kHz
Crossover frequency: 340 Hz
Sensitivity: 89 db 1 W / 1 m
Maximum SPL: 112 dB Peak
Dimensions (H¬×¬W¬×¬D): 44.8¬×¬10.6¬×¬8.4" (1139¬×¬270¬×¬214 mm)
Weight: 70.6 lbs (32 kg)
CHASSIS
HF: Manger ® Sound Transducer, Bandwidth 80 Hz – 40 kHz, Rise Time 13 μs
LF: 8" (200 mm) Custom made Carbon Fiber-Foam-Membrane; Sandwich Layer Design, optimized Magnet System 49 mm Voice Coil Diameter
Enclosure: Closed with two passive Radiators
VARIOUS
Rec. power handling: 50 – 200 W
Connectors: Bi-wiring Terminal – WBT-Speakersockets nextgen TM Cu
SAM™ Processing: Available
Finish: Silk matt as per RAL, Nextel, veneer or UltraHigh Gloss