TW-Audio VERA S17i The riggable installation subwoofer.
Description
The VERA S17i is a compact, flyable install subwoofer in a symmetrically vented enclosure, equipped with one 18" long excursion driver.
The specifically developed integrated rigging hardware allows a tightly screwed installation for perfect integration into VERA20i arrays with nearly invisible rigging parts, without the use of expensive locking pins and additional frames.
The fully symmetrical design of the rigging also allows to set up cardioid sub arrays with mechanically reversed enclosures. There is also the possibility to mount an optional front grill to the rear side of the enclosure giving a seamless look of the entire array.
The two recessed panels with screw terminals – one on the top and one on the bottom of the enclosure – allows for the signal connection between cabinets to be hidden. There are also installer options of plates with speakON™, cable gland and blanking plates available.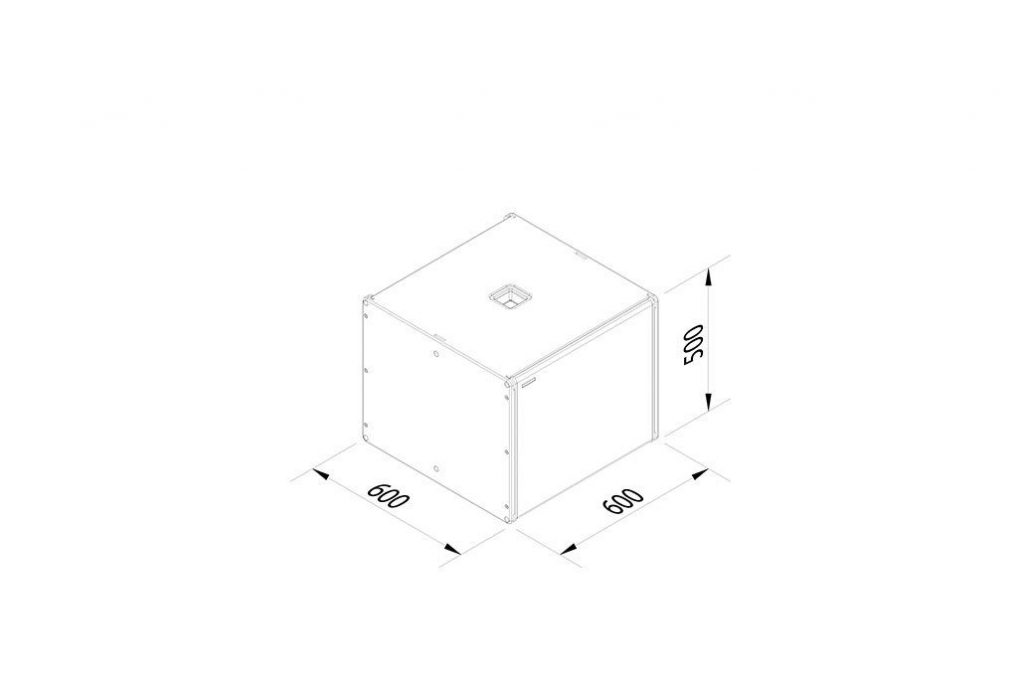 Drivers
1 × 18" LF
Frequency range
37 – 110* Hz

(*With dedicated presets a frequency of up to 200 Hz can be achieved.)

Power capacity program / peak
2400 / 4800 W
Impedance
8 Ω
Coverage
omni
Sensitivity 1 W / 1 m
96 dB
SPL max / 1 m
132 dB
Connection
screw terminal 2±
Optional connections
speakON™-option SO-thru

cable gland CG

closed BP

Dimensions (H × W × D)
500 × 600 × 600 mm [19.69 × 23.62 × 23.62 in]
Weight
37 kg [82 lbs]
Finish
Warnex texture paint
Accessories
RF600i, LA900i
Options
RAL colors, polyurea coating (black)
Drivers
1 × 18" LF
Frequency range
37 – 110* Hz

(*With dedicated presets a frequency of up to 200 Hz can be achieved.)

Power capacity program / peak
2400 / 4800 W
Impedance
8 Ω
Coverage
omni
Sensitivity 1 W / 1 m
96 dB
SPL max / 1 m
132 dB
Connection
screw terminal 2±
Optional connections
speakON™-option SO-thru

cable gland CG

closed BP

Dimensions (H × W × D)
500 × 600 × 600 mm [19.69 × 23.62 × 23.62 in]
Weight
37 kg [82 lbs]
Finish
Warnex texture paint
Accessories
RF600i, LA900i
Options
RAL colors, polyurea coating (black)
Assessories

SO sub
In category: Connection Panels
Related to: VERA S17i, B30i, B17i, B14i, VERA20i

CG
In category: Connection Panels
Related to: B17i, B30i, M12i, T20i, VERA S17i

VERA RF600i
In category: Rigging
Related to: VERA S17i

End