ELLA 6
Description
ELLA is ground-breaking, a world first achievement at this size. ELLA combines the slim form factor of a column with the flexibility of a line array as well as built in passive cardioid technology.
Behind its well designed front panel ELLA offers a newly developed feature – a specially engineered waveguide with five 1″ dome tweeters which reproduce silky smooth and precise high frequencies up to 20 kHz, matched with a custom designed high performance 6.5″ driver. A new outstandingly acoustical listening experience ensuring astonishment among the audience, without compromise, even at high SPL.
Another unique feature of ELLA is the built in passive cardioid system. Due to the special acoustical resistors at the back of the enclosure, ELLA has a cardioid directivity pattern over the entire frequency range.
ELLA is working at 24 Ohms – up to 12 elements can be driven with only one amplifier, there is no additional amp channel required for the cardioid effect.
There is one more key feature to be mentioned – the optically refined, almost invisible integrated rigging hardware, which can easily transform a multi-element column into a true line array. There are no pins or striking company logos on the front grille to disturb the timelessly simple appearance.
Assembly is quite simply clever, fast and cost-effective. With a simple mechanism, the elements can be connected and the six splay angles adjusted.
Regarding ELLA's flexibility: The well thought-out accessories support you in all your different sound applications. Whether stacked on the design pillar for a conference or in a choir situation in a church, on a VERA S32 cardio sub for a gala or flown as an array for the concert in the local town hall.
ELLA ensures you are successful and efficient at countless events: As a discreet main PA at shareholder meetings or corporate events and galas, as a permanent installation in theatres, in a stylish industrial venue or a luminous baroque hall, as a touring system, as a front fill, as an under-balcony loudspeaker, as a sidefill PA or as a sophisticated monitor for the discerning DJ.
Of course, any RAL colour tone is possible.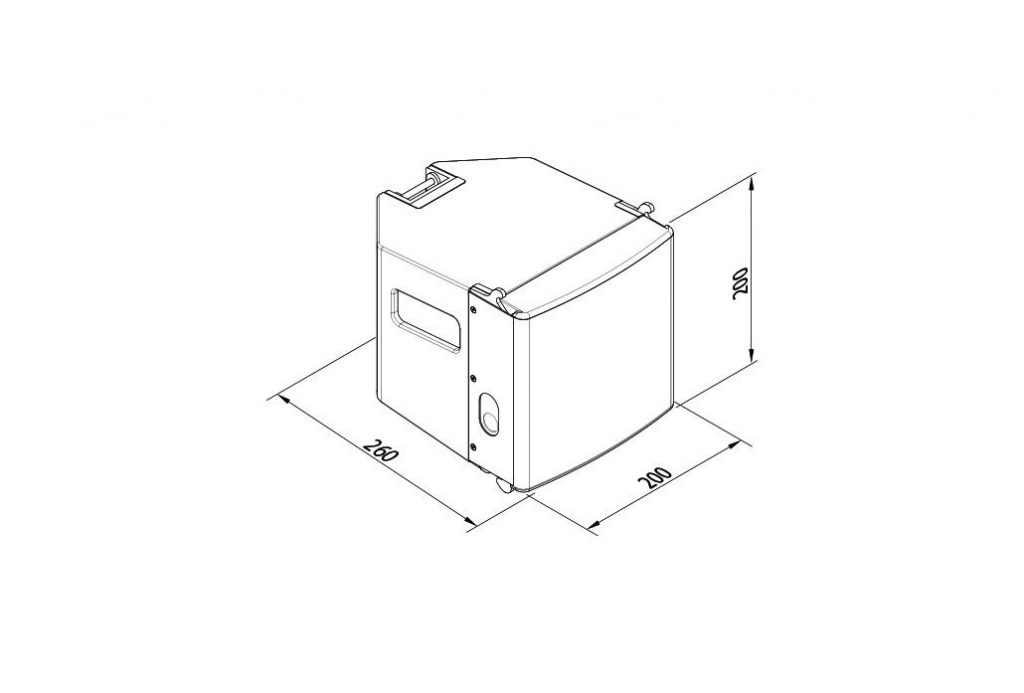 | | |
| --- | --- |
| Drivers | 1 × 6.5″ LF | 5 × 1″ HF |
| Frequency range | 90 – 20000 Hz |
| Power capacity program / peak | 400 / 800 W |
| Impedance | 24 Ω |
| Coverage (h × v) | 120° × 10° |
| Sensitivity 1 W / 1 m | 99 dB |
| SPLmax / 1 m | 129 dB |
| Connection | speakON™ NL4 1± |
| Dimensions (H × B × T) | 200 × 200 × 260 mm [7.87 × 7.87 × 10.24 in] |
| Weight | 5,5 kg [12 lbs] |
| Finish | Warnex texture paint |
| Accessories | BMP150, RPE6, BPE6, WAE6, GPE6, PME6, WHG, HSA, CaseE6 |
| Options | RAL colors |
Assessories

BMP150
In category: Rigging

BPE6
In category: Rigging
Related to: ELLA6

GPE6
In category: Rigging
Related to: ELLA6

End