Mipro ACT-70TC Rechargeable Bodypack Transmitter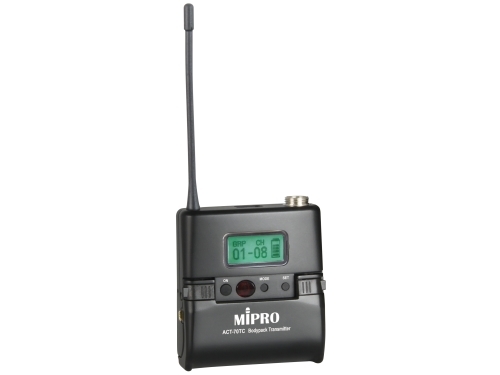 Ultra slim bodypack transmitter with sturdy magnesium alloy housing.
Innovatively designed battery cover allows easy access to operate buttons and prevents accidental operation.
Backlit LCD displays all operational parameter information.
On-the-top features include mute button, mini-XLR connector and antenna.
Mute button with remote-control jack for easy activation of mute function.
World's first ACT™ function provides precise and rapid frequency sync to the receiver.
Selectable impedance for microphone or guitar / line inputs. Five selectable gain settings.
Mini-XLR input with secure screw lock connector.
Adjustable belt clip allows wearing transmitter in up or down position.
Housing
Magnesium
Color
Black
Mic Capsule Module
Lavalier, Headworn mic
Display
Green backlit LCD displays group, frequency, battery meters, etc.
Frequency Range
UHF 480 ~ 934 MHz (country dependent)
Bandwidth
72 MHz
Deviation
< ±40 kHz
Spurious Emission
≦ -55 dBc
Gain Setting
12 dB, 6 dB, 0 dB, -6 dB, -12 dB (five settings).
0 dB = microphone capsule sensitivity
Input Connector
Mute switch, Mini-XLR connector and Antenna.
Dimensions (W × H × D)
63 × 70 × 25 mm / 2.5 × 2.8 × 10 "
Net Weight
Approx. 82 g / 2.9 oz
Battery
1 × ICR 18500 lithium-ion battery
Operating Time
Min. 13 hours
Charger
MP-80 / MP-8
Note
Refer to actual product in the event of product discrepancy.
Frequency range and maximum deviation comply with the regulations of different countries.
ACT-71 – ACT-72 – ACT-74 – MU-53L – MU-53LS – MU-55L – MU-55LS – MU-13 – MU-23 – MU-23d – MU-210 – MU-53HN – MU-55HN – MU-210d
ASP-30 – MJ-70 – MU-40G – MP-20 – MP-80