Mipro ACT-32HC Rechargeable Handheld Transmitter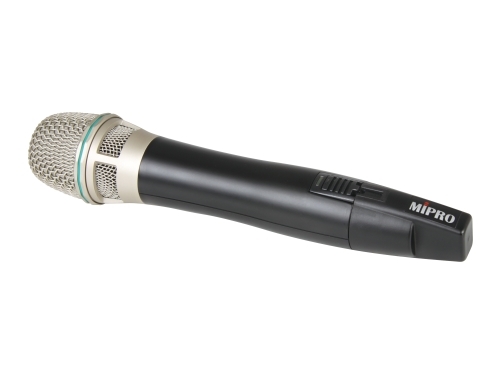 Innovatively designed metal housing in MIPRO's distinctive aesthetic and ergonomic style.
Interchangeable capsule module with premium condenser or dynamic options for easy and fast changeovers. The unique multi-layered metal grille protects the capsule against impact, rolling and pop noise, ensuring clarity of sound. The upper grille is easy to detach for cleaning and hygiene practice.
Patented capsule suspension design virtually eliminates vibration and handling noises.
Built-in high-efficiency antenna.
Backlit LCD displays all operational parameter information.
World's first ACT™ function provides precise and rapid frequency sync to the receiver.
Housing
Black-color rugged plastic housing
Display
LED indicator for battery status.
Frequency Range
UHF 480 ~ 934 MHz (country dependent)
Bandwidth
24 MHz
RF Output Power
10 ~ 30 mW (country dependent)
Deviation
< ± 40 kHz
Spurious Emissions
< -55 dBc
Gain
0 dB = input microphone sensitivity. High-fidelity modulation circuit sustains high SPL without distortion.
Dimensions (Ø × L)
51 × 250 mm / 2 × 9.8 "
Net Weight
Approx. 251 g / 8.9 oz
Battery
1 × ICR 18500 lithium-ion battery
Operating Time
Min. 13 hours
Charger
MP-80 / MP-8
Note
Refer to actual product in the event of product discrepancy.
Frequency range and maximum deviation comply with the regulations of different countries.
SW-20 – MD-20 – MS-20 – MP-20 – MP-80 – MPA-30