Ave Stuttgart – Ascolto FF2470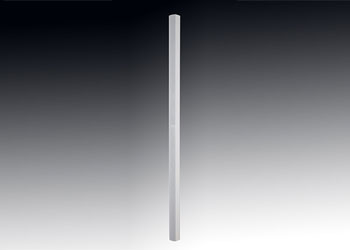 Description:
The digital steering column Ascolto FF2470 is particularly suitable to ensure an extended coverage in large environments, such as churches with long aisles, cathedrals, basilicas and in general where it needs simultaneously a very incisive beam and a bright tone.
FF2470 performs 24-channel DSP beam filtering to steer the vertical radiation pattern, matching the desired listening pattern, making column high directive and featuring main propagation lobe less dependent on the frequency.
FF2470 is equipped with 24 high quality, waterproof, coaxial loudspeakers, each one mounting 4" neodymium woofer + 1'' dome tweeter, capable to transmit perfectly voice as well as music.
FF2470 uses 24 x 70 Wrms class-D audio amplifiers with excellent THD+N and high efficiency (90%). They are completely pop free and protected against short-circuit and thermal over-load.
FF2470 mounts high-reliable, switching power supply with universal input (90 – 264 VAC) to ensure the necessary "power" demand (1080 W continuous / 1290 W peak) to the amplifier units.
Beside the primary analog line input, FF2470 has an auxiliary audio input at 100 V level or a built-in Dante input (choose respectively FF2470 – 100 V or FF2470 – Dante version). Thus, it can be integrated and connected into an existing speaker line or into a Dante network.
FF2470 setup comes easy throughout the AVE Line Array User Control PC software, via RS485 connection.
AVE Line Array User Control includes:
• Beam forming control (tilting/broadening of vertical pattern);
• Anti-Reverberation System ARS to increase the voice intelligibility in reverberant environments.
• Air attenuation compensation;
• Volume control;
• Solo control;
• Delay control;
• 8-biquads user equalizer with high/low shelving and parametric filters;
• Music adaptive equalizer with a smart and robust speech/music detector.
FF2470 cabinet is aluminum extrusion and powder coated with desired RAL color.
All digital steering column loudspeakers Ascolto are designed and manufactured in Germany.
Data sheet:
Acoustic Specifications

Frequency Bandwidth
80 Hz – 20 kHz (±2 dB)
max. SPL (Nominal/Peak)
108 dB/111 dB (A-Weighted at 10 m)
105 dB/108 dB (A-Weighted at 20 m)
103 dB/106 dB (A-Weighted at 30 m)
98 dB/101 dB (A-Weighted at 40 m)
Coverage horizontal (fixed)
110°
Coverage vertical (adjustable)
Tilting Angle: –60° to 60°
Opening Angle: 8° to 40°
Typical Throw
40 m
Maximum Throw
50 m
Dynamic Range
102 dB
Transducers
24 x 4,0" woofer + 1,0"dome tweeter neodymium
Sensitivity 1W/1 m
91.5 dB

Electrical Specifications

Audio Input 1
Line
Input Level Nominal
0 dBu (2.19 Vpp)
Input Level Maximum
10 dBu (6.92 Vpp)
Type
Balanced
Impedance
20 kOHm at 1 kHz
Audio Input 2
100 V
Input Level Nominal
39.2 dBu (200 Vpp)
Type
Balanced with Transformer
Impedance
20 kOhm at 1 kHz
Audio Input 3
Dante Audio Networkiing
Network
Dante Audio over IP
Transport Layer
Ethernet
Dante Latency
1, 2 or 5 ms (configurable using Dante Controller)
Sampling rates
48 kHz
Bit Depths
24

Power Amplifier

Type
PWM (Class D)
Output power
24 x 70 W rms
Power Efficiency
92%
THD+N
0.025% at 10 Wrms/channel, 1 kHz
Input signal
Balanced
Channel protections
Thermal Shutdown (Tjunction< >150°C)
Output Short Circuit

DSP Module

DSP Processor
48 bit Fixed Point DSP
76 bit internal AccumulatorP
145 Mhz
Sample Rate
48 kHz
A/D Conversion
Resolution: 24 bit linear PCM

Conversion: 1 bit delta-sigma 512x

Sample: 48 kHz

SNR: 112 dB (A-Weighted)

D/A Conversion
Resolution: 24 bit linear PCM

Conversion: upsampling 128x

Sample rate: 48 kHz

SNR: 105 dB (A-Weighted)

Signal Processing
Beam Forming Filtering
Input Equalization (10 Biquad)
Volume: (-120 dBFS to 0 dBFS)
Delay (0 m to 30 m, Step 0.1 m)
Dynamic Compressor 2-Bands
Input Signal Activity Detector

Control Module

Processor
32 bit ARM-Cortex M3

RISC

50 MHz

Setup Network Interface
RS485, Half Duplex, 115200 baud/s
120 Ω Parallel Termination (recommended for long distance)
This network interface is used by AVE Line Array User Contol software
to manage beam setup and other audio features.
Dante Network Interface
Ethernet, 100 Mbit/s (available only in Ascolto – Dante Series).
Processor Activities
DSP Firmware Booting
DSP Status Monitoring
PWM Power Amplifier Functions Controlling
PWM Power Amplifier Status Monitoring
Audio Input Channel Functions Controlling
Dante-Chip Ultimo XXT Control (in Ascolto – Dante Series)
Auto Stand-By Controlling
RS485 Communication
Infrared Communication
Panel LEDs Controlling
Firmware Updating

Connectors

Audio Inputs Connector
3-pole, 3.81 mm-pitch
Audio Inputs Pinout
pin 1: hot signal (+)
pin 2: cold signal (-)
pin 3: earth (chassis ground)
RS485 Network Connector
3-pole, 3.81 mm-pitch
RS485 Network Pinout
pin 1: data +
pin 2: data –
pin 3: digital ground
Dante Network Connector
8 pin Ethernet RJ45, female connector
Mains Connector
Socket Wago cod. 770-103 with strain relief housing, 3-pole, 4,00 mm²,
ratings 250 VAC, 25 A, IEC/EN 60664-1, UL 1977

PSU-Module:

AC Range
90 VAC to 264 VAC (Universal Input)
Input Frequency
Input 47 Hz to 67 Hz
Efficiency
91% typ at 230 VAC
Power Factor Correction
Yes
Input Current at Full Load
12.0 A typ at 115 VAC
6.0 A typ at 230 VAC
Power Consumption
Continuous: 1080 VA
Peak: 1404 VA
Idle: 36 VA
Stand-By: 12 VA
Protection
Thermal Protection
Short Circuit Protection
Output Current Limiting
Under-Voltage Lock Out
Main Fuse
1 × 10 A (slow blow)
Electromagnetic compatibility
EN 55022, class B, FCC part 15, level B
(EMC), Emissions
IEC/EN 61000-3-2 class B

General Specifications

Height
3044 mm
Width
122 mm
Depth
120 mm
Weight
28.7 Kg (63.2 lbs)
Cabinet
Powder Coated
Aluminum Extrusion
Colour
RAL 9010
Special colour
available for an additional charge
Temperature Range
0°C to 40°C (32°F to 102°F)
Protection class
IP 54
Certificates
CE