Mipro ACT-80HC Rechargeable Wideband Digital Handheld Transmitter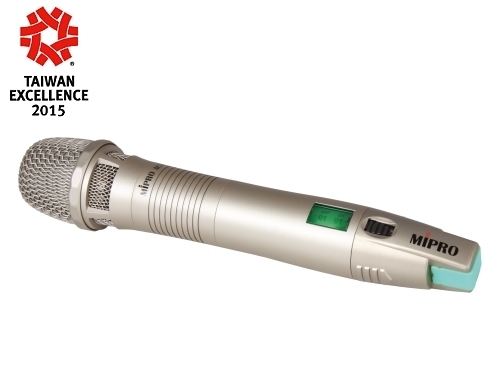 Innovatively designed metal housing in MIPRO's distinctive aesthetic and ergonomic style.
Standard champagne-color housing. Optional custom-made colors are available.
Interchangeable capsule module with premium condenser or dynamic options for easy and fast changeovers.
The unique multi-layered metal grille protects the capsule against impact, rolling and pop noise, ensuring clarity of sound.
Patented capsule suspension design virtually eliminates vibration and handling noises.
Backlit LCD displays all operational parameter information.
Three selectable gain settings: 0 dB (same as microphone sensitivity), +3 dB, +6 dB.
Three selectable mute settings: Auto, Manual & Disabled. "Auto" mute activates automatically when handheld transmitter points down towards the ground.
The bottom housing with built-in high-efficiency antenna features power switch, mute and setup buttons for programmable gain, limiter, low-cut and RF output power.
Patented end-cap cover with color-coded channel identification clips onto the mic and can be reversed to allow shielding of power on/off or mute switches during performance. Detach the end-cap cover for parameters set-up.
Housing
Magnesium
Mic Capsule Module
Interchangeable Condenser or Dynamic
Display
Green backlit LCD displays various parameters
Frequency Range
UHF 480 ~ 934 MHz (country dependent)
Bandwidth
64 MHz
Encryption
256 bits
Modulation Mode
New digital modulation
Audio Compression
DSP Inertial coding
RF Power Output
10 mW / 50 mW switchable (country dependent), 50 Ω loaded
Spurious Emission
< 4 nW
Gain Setting
6 dB, 3 dB, 0 dB (3 settings). 0 dB = microphone capsule sensitivity
Dimensions (Ø × L)
51 × 250 mm / 2 × 9.8 "
Net Weight
Approx. 282 g / 9.9 oz
Battery
1 × ICR 18500 lithium-ion battery
Operating Time
Min. 13 hours
Charger
MP-80 / MP-8
Note
Refer to actual product in the event of product discrepancy.
Frequency range and maximum deviation comply with the regulations of different countries.
RH-87 – SW-20 – MD-20 – MS-20 – MP-20 – MP-80 – MPA-30